High exposure banner campaigns thematically integrated into the website information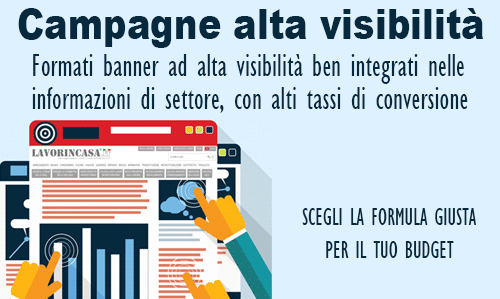 The excellent integration between advertising spaces and information relating to the contents of the home and garden sector and the well-defined target of our average user, create a thematic congruence of the promotional message contained in the banners with the page that hosts them, certifying the CTR on above average levels.
Brand Awareness.

46 percent of our users remembers banners (active recall, recall) and of these, a slightly lower percentage also remembers the brand associated with the banner, generating a consumer consent higher than that of other websites and web portals.
This is because in our pages we prefer to offer promotional spaces only and exclusively to companies related to the home sector.
Banners perceived not as a separate advertising message but above all as related and relevant information, significantly increasing brand awareness even on products not known by our user and instead strengthening those of brands already known on the market.

Click-through rate

Not all companies need only brand awareness and their attention can also be directed to the results of the CTR, i.e. the percentage deriving from the total number of clicks received compared to the number of views generated.

Banner campaigns therefore aimed at companies that have the exclusive need to bring visitors to their website, without being interested in brand awareness.
The banner campaigns on Lavorincasa.it prove to be of great added value for those who need to obtain a favorable response from our average visitor, who is actively ready to click on the appropriate advertising spaces to receive more information on the characteristics and prices of the product or service in promotion.


Prompt offers and guaranteed results reports.
With our Marketing department we manage the offers for each specific request, providing a timely quote and any other information on the needs of each advertiser.
We guarantee the right balance, quality, price, adapting to the budget foreseen for each type of company with "First Entry" offers also reserved for advertising agencies.

Risultati garantiti dall'uso di software forniti da Google.



Choose the right formula for your company and your budget:

High visibility banner campaign concentrated in a very short time, max 30 days, is recommended for advertisers who have the immediate need to promote the launch of a new product or service in a few days or at trade fairs and events in the sector or presentations of offers and promotional discounts.
A high number of impressions to be generated in a few weeks with a very attractive CPM cost.




Long-term banner campaigns (6-12 months), recommended for advertisers who require continuous and permanent visibility on Lavorincasa.it. Minimum of contractual impressions established for the entire period of the promotion and surplus of free impressions deriving from unsold or greater portal traffic. (75 to 300% more)
Continuous promotion with monthly fee, with systematic reduction of the final CPM cost incurred, even below € 2.50.



Complete promotional package, with exclusive assignment of a website channel and publication of a banner campaign in "light formula" for the entire contractual period (12 months), combined with a "high pressure" campaign to be programmed in certain periods of the year at the advertiser's discretion.
High visibility for partnering with leading advertisers in their sector, primarily interested in prevailing in terms of visibility over the competition.
This option can be chosen free of charge with the CONSUMPTION, LIGHT and BRAND formulas, integrating our INFOBANNER format into the available creatives, (the new and exclusive type of communication with a high click rate created by our marketing studio), in order to increase the CTR value, consequently lowering the CPC cost. See the availableformats

Torna alla pagina di tutti i servizi promozionali
---
CONTATTA L'UFFICIO MARKETING PER ULTERIORI INFORMAZIONI

Telefona al 081 193 22 552
Invia una richiesta per e-mail a pubblicita@lavorincasa.it, indicando la formula desiderata.